The Grand Anne Bed & Breakfast (Keokuk, IA)
Takito with Jen. Spin. Lunch with Reba @ Handlebar to discuss wedding invites! Eliza & Mike's rehearsal dinner/wedding in Keokuk, IA! Stayed at the Grand Anne Bed & Breakfast which was absolutely the perfect place to stay. Takito with Z & C-Begs. Finding out Kate & Brian got engaged!
Eliza & Mike's wedding was such a sweet and nerdy affair. I was so so so happy to be a part of it and seeing theirs be so awesome and go off without a hitch gave me confidence that everything will work out for Z and my wedding in October. It was my first time standing up in a wedding and I thought I would be more stressed out, but it all worked out. Even my last minute speech turned out okay! 99% of the year I wear pants and have my phone in my pocket, but because my phone was in my purse, I only have two photos from the wedding weekend worthy of sharing and the second is of Z and my plush kid Rico on the way to Iowa. The nice photos will come later. 🙂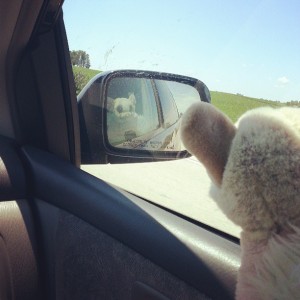 Rico getting an eyeful of ears (of corn).
Films watched 29th week of the year:
Ghost Bird *
Your Sister's Sister
The Celebration ** [Denmark]
* documentary
** foreign language
Your Sister's Sister was my favorite film of the week. It's a simple little film, but very enjoyable even with a mostly unbelievable premise.