Tweekly make: favor bags for Eliza's bachelorette party. I filled a clear polka dotted bag with Trader Joe's candy and magnets I made. Then I punched holes and ran a ribbon through them, tied a bow, and then pinned the custom pins I made for the attendees in the bow's center.
This was a pretty excellent week. Got my measurements taken at Mignonette for my wedding dress, had after work drinks at Rootstock, purged a lot of books, spin x 3, Eliza's bachelorette party, Annie & Jason's wedding. So great seeing such happiness in our friends. Only five more weddings to attend (other than our own) this year! 🙂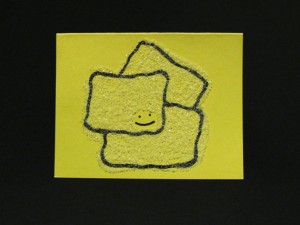 New in the Rhymes with Twee Etsy shop are the Beignet Birthday Card and the Flaky Croissant Card. Enjoy!
Films watched 21st week of the year:
The Place Beyond the Pines
Moliere * [ France ]
Her Master's Voice *
Vida Secas ** [ Brazil ]
All I Desire
* documentary
** foreign language
The Place Beyond the Pines and Her Master's Voice were both very enjoyable. The score for TPBTP was excellent.