This was the new Rhymes with Twee card I was hinting about in a previous post. I'm pretty proud of this little beer swilling guy. I used glitter markers to color in the beers on the blue cards. I also made white cards, but because the paper weight was lighter, the glitter marker bleeds through and I'll have to use the Sakura Glaze pens instead and it won't look as good, but still good. Sakura has some really interesting products on the market. I've been a big fan since I started using their Souffle pens to draw the faces on my "i'm glad i picked you" cards. I have a lot of different options in my craft room when it comes to supplies, but sadly none of them were letting me get the look of a stout beer on the cards. Amber it is! These are available in a set of 5 in my Etsy shop.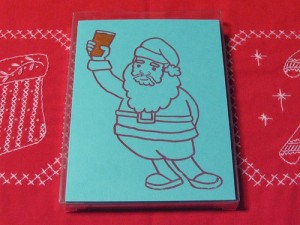 http://rhymeswithtwee.etsy.com
This Saturday I am selling at the second Urban Folk Circuit from 3pm until 8pm. This one is at the Glenwood Bar in Rogers Park. If you're in Chicago and want to get the jump on your Christmas buying like me (not even joking – I bought my mom presents August 30th), then stop by and shop awesome crafts while you drink a tasty craft beer!