Hey, hi. I haven't written in awhile. It's busy around these here parts. Z and I are still settling into our condo. My hurdle is the craft room. It's 80% done, but that 20% left has been hard to find time to do.
Weeks 50 – 52
Berea, OH! Melt with Kate & Marikka. My parents drove up from Alexandria, VA to spend Friday through Sunday with us. D'Agnese's. Dante Next Door. Started the drive back to Chicago and picked up Amanda & Derek outside Toledo. Kimmi bday @ Pot Pan/Rainbo. NYEE party @ Linsey & Scott's. NYE celebrations @ Austin & Annie's, Eliza & Mike's, and Shanleys.
Films watched 50th, 51st, and 52nd week of the year:
Troop Beverly Hills
A Christmas Story
Big Eyes
The Frighteners
Big Trouble in Little China
Troop Beverly Hills is every bit as amusing today as I found it when I watched it as a kid. So happy Z shared my love for it. I freaking loved Big Eyes. I don't know why the film was not nominated for a Best Picture Oscar. It has my vote and that's all that matters.
+
2015 Week 1:
NYD brunch @ Amanda & Derek's and collards @ Nick & Erin's. Got updated DL at DMV. IKEA/Sushi Station with Z, E&M, A&D, and Juli.
2015 Week 2:
Dropped Bean Baby onesies off at The Fig Tree. Quesadilla & movies with Eliza & Juli. Alison/Kim hang. Eliza Bday Pizza Party. Emily bday dessert & drinks party. Ground Control with Heidi. Review revue.
2015 Week 3:
Steve Niketopolous fundraiser @ Shaman. St. Sebastian Day @ The Peacock. Lunch with Sarah J. @ Takito. Ginny bday karaoke @ Spynners. Three Movies with Z @ Logan. Dinner with Z & Ed @ High Dive. Kathy M.'s bday @ Emporium.
2015 Week 4:
Quesadilla with Erin & Alison. confirmation that I am more blind than before with beloved Dr. Ortiz @ Eye Appeal. Little Goat lunch with Rachel! First condo association meeting for us. Pet Baths. Movies @ Logan.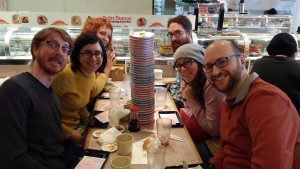 Sushi Station, Mountain of Plates Consumed
Films watched 1st, 2nd, 3rd week of the year:
Dawn of the Planet of the Apes
Breakin'
Spring Breakers
21 Jump Street
An Easter Bunny Puppy
To Be Takei *
The Skeleton Twins
Chulas Fronteras *
Roman Holiday
Foxcatcher
The Theory of Everything
Wild
Baggage Claim
Captain America: Winter Soldier
Small Soldiers
Finding Vivian Maier *
The Emperor's Nightingale (Jiri Trnka)
Selma
Breakin' 2: Electric Boogaloo
* documentary
A mix of fantastic and fantastically terrible movie films so far this year. This MIGHT be sacrilegious, but An Easter Bunny Puppy might be even better than A Talking Cat?!? Speaking of best pictures, the Oscar Best Picture nominees I still need to see: American Sniper, Boyhood, and Whiplash. Selma struck the chord I was looking for. Truly a bummer that Ava DuVernay was not nominated for a Best Director. It was a beautiful & riveting film, with the best ensemble cast of the year. I thought the timing of this release was very smart – hopefully it will inspire everyone to get out the vote; something that people risked their lives for and died for. Let's do this!