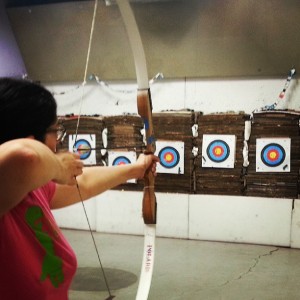 Mountain Goats @ Lincoln Hall. LCB bday dinner @ Bite. Jason Anderson @ Den Theatre. Biked to Etsy Craft Party (Craft Bar) @ Mignonette Bridal. Archery @ Archery Bow Range. Printed a custom order of 73 Matthew Crawley moleskine notebook cahiers for an event in Oregon! Dropped more Bean Baby onesies at Neighborly and picked up their collaboration with Begyle, Neighborly Stout, at West Lakeview Liquors! Spin x2 and 9 mile bike ride another day. Woo!
Great week of awesomeness. Archery Bow Range was incredible. Thanks so much to our friend Elisse for telling us about it. It was a belated birthday present from Z and we had such a great time. I hit the yellow center area a couple of times, but I never broke the bull's eye's enter. Aspirations! After an hour of shooting, my shoulders and bow fingers hurt though! I will totally be back. It is very affordable to use their equipment, but I could see it becoming a very expensive hobby. Yep, totally just looked at custom bows on Etsy!
Films watched 25th week of the year:
Walk Away Renee *
Dead Men Don't Wear Plaid
Lore ** [ Germany ]
Zazie dans le metro ** [ France ]
* documentary
** foreign language
All quality movies this week. I think Lore was my favorite. Gorgeous cinematography and score. Truly interesting to see the end of World War II from the perspective of Nazi's children. Definitely worth a watch.