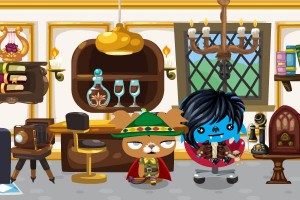 Francois & Z-Boo sharing one last drink
I posted this on FB the night before the shutdown of Pet Society was supposed to take place, but I feel it's worth posting here: "Pet Society shutting down tomorrow has been strangely hard for me to handle. Z and I both had pets that we put a *lot* of hours into maintaining. Granted, we had not been on much since we moved into this apartment, but it's weird knowing that this thing we invested so much time, care, and money (only me) into will cease to exist tomorrow. Sad face." I had a stint of loving both Packrat and Farmville, but my love for Pet Society ran pretty deep because it was beautifully designed and the in-game activities were addictive to play. Zachary and I both spent a lot of time on it back in the day. Okay, I enjoyed it mostly because it was a really twee game and it was fun and very easy to spend hours exploring the world fishing for crazy fish and decorating your house. Back when Z and I were both actively playing the game, our work lives were not the best work lives we could have had and it was nice to have something uncomplicated and adorable to check in on. When we moved into this apartment 2+ years ago, we checked in less because my desktop had poor wireless signal and Z's laptop ran the game slowly, but we would check in on the kids from time to time. We're both genuinely sad to see our pets disappear. I don't think either of us will want/need to enter a world like that again, but it was nice when we were there. I know Z-Boo and Francois will take good care of one another. They are best friends, after all.
This week: [REDACTED] @ Constellation [John Hodgman, Doug Benson, David Cross, Brian Posehn, 1/2 of Superchunk, Kyle Kinane, Cameron Esposito]. Played Pet Society on the night I thought was the last. Spin x2 Man Or Astro-Man? instore @ Saki. Epic neighborhood walk & breakfast at Handlebar with Eliza. Grilling @ Amanda & Derek's.
Films watched 24th week of the year:
The Tragedy of Man ** [ Hungary ]
Brighton Rock
Behind the Burly Q *
The Impossible
The Ugly Dachshund
Struck by Lightning
* documentary
** foreign language
This was a really great week for films. The Tragedy of Man was incredible. Seek this film out and watch it. Every one of these films gave me something different. Being a huge Glee fan, I'm very proud of Chris Colfer [Kurt from Glee] for writing and starring in Struck by Lightning, which was very dark and clever. The Impossible was very rough to watch because it was so realistic. I had to look away during a few scenes. Really good we followed it up with –> The Ugly Dachshund is a Disney film I had no idea even existed until I stumbled upon it on the internet. Thank you, internet! The film is filled with some of the best animal hijinks I've ever seen. CG, you have nothing on live action hijinks! Fans of dogs in general, or specifically doxies or Great Danes, will love this film!