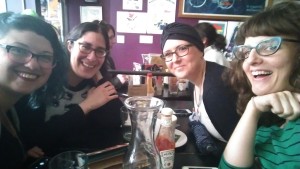 Lovely lunch with lovely ladies: Heather, me, Kristen, & Kelly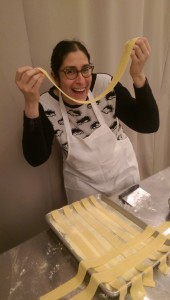 Me with pappardelle made at Cooking Fools (yes, I love this sweater)
2015 April: Letter writing party @ Paper Doll. Z and my 9 year boo-versary dinner at Bite. Had hoped to celebrate Chuy winning the run-off election at Map Room, but we know how that went. Work tradeshow (NCIA) in Indianapolis. Takito with Stacy. Bean Baby drop off at Neighborly. Z's parents came to town: breakfast @ Lula, dinner @ Mana, Show of Hands open house @ Sacred Art, Chicago Food Swap with Z's mom, dinner @ Julius Meinl, Sound of Silent @ Music Box. Rachel's bday @ Boiler Room. Vegan night @ Boiler Room with Molly, Allison C. and then the Owl with them, Layne, and met Mikey, J, and their friend whose name i cannot remember. Lunch with Eliza @ El Metro. UVNA meeting. HOA meeting. Lunch with Kristen, Heather, and Kelly @ Handlebar. Attended C2E2 thanks to Mikey's bud, J Salvador (Super Emo Friends). Got to meet Brad Neely there and *maybe* embarrassed myself a bit. Real fun night hanging with Mikey, J, Melissa, + Fred @ Revolution Brewery, East Room, and Cole's. Kirstie bday brunch @ Old Oak Tap. Attended the spring Vegan Vortex. Show of Hands Vendor Meet & Greet @ 345 North with Mikey. Dinner with Frank, Cheryl, Briana, Jason, Ashley, & Thom. Pasta making class @ Cooking Fools. Dinner @ Parson's with Annie.
At her check-up, Dr. Horton had noticed Artemis' kidney was enlarged. We had a few rechecks and we're monitoring it.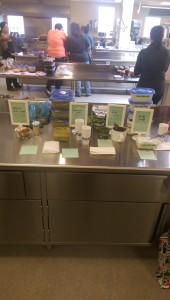 What I made for Chicago Food Swap – April 2015
For the Chicago Food Swap this month, I made hickory chick-a-peas, asparagus soup, kale pesto, and fluff stuff – all vegan. I jumped onto the marshmallow fluff made with chickpea brine bandwagon. The most popular things I made were, surprisingly, the asparagus soup + the kale pesto, the most everyday kind of things. Again, you never know what's going to be the fan fave. My personal fave was the hickory chick-a-peas I made – those babies were OUT OF SIGHT.

My Chicago Food Swap haul – April 2015
Films watched April 2015:
Begin Again
Big Hero 6
Kumiko the Treasure Hunter
Nightcrawler
Computer Chess
Lionheart
A Sloth named Velcro *
Chappie
Beat Street
The Fast and Furious
2 Fast 2 Furious
Alien: Resurrection
John Wick
The Fast and the Furious: Tokyo Drift
Fast and Furious
Pitch Perfect
Fast Five
Fast and Furious 6
* documentary
A Sloth Named Velcro and Chappie were probably my faves this month, but Beat Street, Nightcrawler, and F&F: Tokyo Drift were up there.