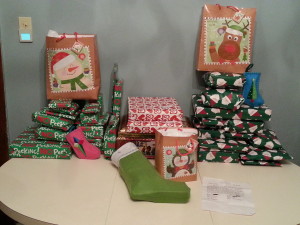 So far, this year was the best Be an Elf me, Z, and our friends have done. It's where you go to USPS and pick a Letter to Santa to answer and follow through. This is the third year we have done it and we did good for this single mom Fanchon and her two kids, which in turn makes us feel good. Our friends are awesome and we love doing this with them! Highly encourage anyone in a major city to look this up for next year.
This week: birthday cake @ Alison & Ian's. Christmas Cookie Throwdown @ Kimmi's. White Elephant swap @ work. Christkindlmarket with Z. Target with 2 Jens. Dimo's with Z and Shanleys. Mailed off my #FOLswap package – I hope she loves it! Our holiday party. Last Chance Holiday Sale @ Hideout. Drop off Katniss @ Hannigan Household. Drop Be an Elf boxes at USPS. Show Beth's apartment while writing our holiday cards. A very productive week!
Films watched 50th week of the year:
The Perks of Being a Wallflower
The White Ribbon ** [ Austria ]
I Am an Animal *
* documentary
** foreign language
I was really excited about TPOBAW. It was actually fairly good, but it was one of my favorite novels growing up, so it couldn't hold a candle. Makes me want to re-read the book though! Man, The White Ribbon – I definitely did not grasp all the layers, but it was pretty to watch.
Ingrid Newkirk is not a role model for me in her style of animal activism, but I did gain respect for her in I am an Animal. I do realize that her and PETA's sensationalism sometimes benefits the greater good, but it pushes a bit too far. The documentary did capture Newkirk's deep empathy for animals, which I fully support.