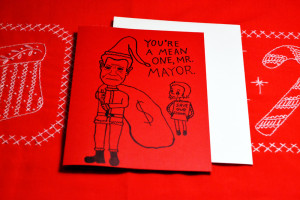 First political card I've made and most likely my last. Our Mayor has done a lot of stuff to rub me the wrong way though and that deserved a card. Available in the Rhymes with Twee Etsy shop as a single card of as a set of 5.
This week: Hopleaf with Cindy Paper Parasol Press and a group of her lovely friends. Takito Tuesday with Stacy & Jen L. Z's work Holiday Party. Leah & Tim's Party. Lunch Buffet @ Tava. My Trunk Show @ Local Goods. Shopping for Letters to Santa gifts.
On Sunday night, I made grapefruit sandwich cookies filled with grapefruit (& malört) buttercream frosting for Kimmi's cookie exchange. They took FOREVER to make, but these were some of the best cookies I have ever made – they are freakin' tasty. I followed this recipe exactly except for the grapefruit juice in the frosting, I subbed in half malört and the bake time was only 9 minutes somehow? I burnt the first batch.
Films watched 49th week of the year:
Foodfight!
The Watch
From One Second to the Next *
The Kite (2003) [ Lebanon ]
* documentary
** foreign language
At Show of Hands, I was talking to a customer about The Room and they told me and Z about a "film" called "Food Fight!" and they assured us it was a similar so bad it's good movie. Well, they are liars! Z and I are both convinced that this was the worst thing we have ever watched. So much is wrong with it! Upskirt after upskirt of weird sexy lady cat. Worst plot ever. I could not even deal with it! No redeeming qualities. DO NOT WATCH. The rest of the films this week ranged from OK to good. I have not read the history as to why Werner chose texting as a documentary subject for From One Second to the Next, but he did a good job. This film should be shown to every single person who gets behind a wheel. My foreign film new year's resolution has done a really good job educating me about world affairs that I admit I did not know much about. Watching these films has made me do a lot more reading about international conflict. The Kite made me read more as well.