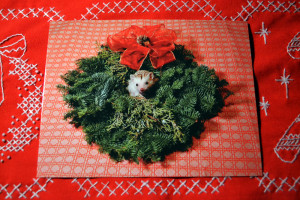 The Wreath of Katniss – new postcard
I am thankful for my partner in love & life, Zachary. I am thankful for my family, which has now tripled in the last 10 years, with finding my birth mom Lauri and marrying Zachary. I am thankful for my absolutely spectacular friends who help to make my life even happier. I am thankful that I am in good health, have a day job I love, a roof over my head, food to eat, and some money left at the end of the day. I am thankful that I have a creative outlet that I am starting to learn how to do correctly (fun AND profit) with Rhymes with Twee. I cannot be more thankful for my wonderful customers who I think the world of. I am thankful for a lot of things always, but this year especially.
Week wrap: Baths for our furry babies. Dropped stock off with Eliza to take to White Rabbit (Iowa City, IA). Z and I dropped Amanda & Derek off in Toledo and then got a flat tire about 40 minutes outside of Cleveland. It was a comedy of errors, truly, but we made it into Berea, OH a bit after 1am. Thanksgiving lunch @ Don's Pomeroy House. Melt! Dante with family! Thanksgiving Saturday dinner (Christmas, celebrated) with Hansens. Many amazing presents! Jess & Eli were so happy with their matching Megan Lee Designs shirt/onesie! Waffle Christmas @ Kate & Brian's! Drove back to Chicago, dropped off our stuff, headed to Dimo's, dropped off Amanda & Derek, bought a Christmas tree @ the fantastic Christy Webber Gardens, came home and decorated our tree and put up the rest of our decor. What a whirlwind of a weekend – it was one of the best homecomings we've had yet!
All kinds of awesome stuff going on in Rhymes with Twee land. Two brand new Katniss postcards up in the Etsy shop. Old version of the tea towels is back in stock. Love my supplier ACS Home and Work (formerly they went by only American Chair Store). They are based in Coopersville, MI and they are great to work with. Thankful for the amazing vendors I work with!
Films watched 47th week of the year:
What's the Matter with Kansas? *
Escape from Tomorrow
Trances ** [ Morocco ]
* documentary
** foreign language
Kind of a MEH movie week. Can't recommend any of the above, really. Trances was enjoyable for the music. Perhaps I'm becoming jaded after watching so many music documentaries? Escape from Tomorrow was an epic idea, but executed on a mediocre level. There were some pretty neat moments, but the cohesiveness was not there.