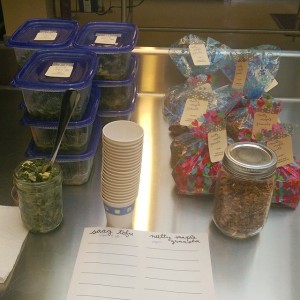 What I brought to February swap: saag tofu, granola
2015 Week 5:
Miss Spoken: New Year's @ Gallery Cabaret. Quesadilla with Eliza & Meghan. 1st Ward Aldermanic Debate @ Wells HS. Dinner with Shanleys @ Handlebar. Made jackfruit curry & vegan nutella for Vegan Food Swap: Blizzard edition!
2015 Week 6:
Drinks with co-workers @ Cobra Lounge. Jerry's with Stacy. 2nd Ward Aldermanic Debate @ Wells HS. Flying Saucer with Shanleys + epic walk home. Shopped the valentine vegan vortex!
2015 Week 7:
Worked on a song with buddy Steven Gilpin. Finally dropped T-Mobile for Verizon and I have coverage in our condo! Boo v-day dinner @ Bite. Steven Gilpin @ Hideout. Dinner with Alison @ Ground Control. Emily W. djing @ Burlington. Rainer Maria @ Lincoln Hall! Made saag paneer & granola for Chicago Food Swap.
2015 Week 8:
Paczki day! Jennifer T. bday brunch. Kaitlyn & Adam going away party. Lula & Kingsman: The Secret Service with Jerroid! Amanda bday pizza party. Oscars @ Kimmi's.
2015 Week 9:
Chicago Mayoral & Aldermanic Election! Lunch @ Upton's with Alison. Parson's with Ginny. Took Z out for bday dinner to Osteria Longhe. Said goodbye to Parks & Recreation. Tilda dental cleaning & extraction. Movies @ Music Box! The House Theatre production of The Hammer Trinity @ Chopin Theatre. Z bday pizza & coffee party.
Also this week, Rhymes with Twee was happy to support Illinois Leadership Seminars (ILS) by donating a set of Veggie Vampire Tea Towels to their 7th Annual Wine Tasting & Silent Auction Fundraiser at D.O.C. Wine Bar 2/28.
Films watched 5th – 9th week of the year:
Pain and Gain
August: Osage County
Fubar
Kick-Ass 2
Edge of Tomorrow
A Pony Tale
What If
Le Week-end
The Book Thief
Demolition Man
Da Sweet Blood of Jesus
Small Apartments
Boyhood
The Tale of Princess Kaguya
Ida
Kingsman: The Secret Service
Frank
Song of the Sea
What We Do in the Shadows
+
So many fantastic movies, but The Tale of Princess Kaguya and Song of the Sea were both phenomenal. Frank was something I had never seen before and I liked most of it. Ida was incredibly beautiful. Kingsman & WWDITS were belly laugh inducing.