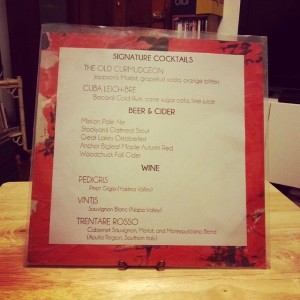 Let's do some more wedding talk! For our hedgehog & music-themed wedding, we tried to tie in music in little ways where we could. For our drink menu, we cut the menu into a square shape and used double-sided tape to affix it to a 10″ record sleeve. Then we put it into clear sleeve and put in on a stand. We had beer, wine, cider and two signature cocktails for the wedding. Mine was the Cuba Leigh-bre and Z's was The Old Curmudgeon. The Cuba Leigh-bre was a Cuba Libre and Z's was something Adam from Takito gave us the idea for. The Old Curmudgeon was Jeppson's Malört, grapefruit soda, and orange bitters. Funny enough, I did not drink any of my signature cocktail because Z's was so tasty!
Takito Tuesday with Stacy. Made veggie and tofu tempura. Saturday was all about errands. Dropped off promo items @ Orange Beautiful for Show of Hands. Dropped off stock at Local Goods. Was recommended an Indian restaurant called Tava in Melrose Park and it had such unique and amazing vegetarian buffet items. Dropped off items and checked out The Free Store – highly recommend everyone support this next time it pops up. Within 30 minutes of my stuff being put out, nearly all of it was gone, and seemingly to people who needed/would put it to use. Kiku/Megan Lee Designs Open Studio. Birthday brunch for Dave @ Delish. Did a mega clean-up after our landlord had our front window replaced and cleaned up our mantel (below). Made a new RWT card especially for Pittsburgh's Handmade Arcade!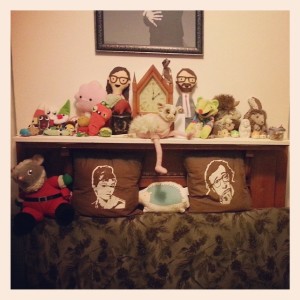 L&Z puppets, hiding, were made by Katie Rose Crafts! Because Z proposed with a puppet and we knew Puppet Bike was going to be our special wedding guest, we knew we would get puppets made of ourselves. My buddy Nate's professional photos should be coming soon and I cannot wait to show those off!
Films watched 45th week of the year:
Turn Me On, Dammit! ** [ Norway ]
What's Your Number?
Zoolander
Seeking a Friend for the End of the World
A Walk into the Sea *
5 Broken Cameras ** [ Palestine ]
* documentary
** foreign language
Fave movie this week was Turn Me On, Dammit!. Z had seen this before and knew that I would like it and he was correct. Very refreshing to see a teen sex comedy where it is a horny girl instead of just some horny dude. Silly and serious at times, a very worthwhile watch. It was surprising how much I enjoyed Seeking a Friend for the End of the World. Really sweet and it made me cry.
Speaking of crying: David Bowie, Lady Hedgehog crossed the Rainbow Bridge and her person, Aimee, was an amazing hedgemom to her. A few things have been happening in my world that are out of my control and reading this news Saturday night sent me into a long crying fit. You are so missed, DB, LH. Hopefully you got to meet Hoggle and Hermione and you are chomping up all the mealworms you can fit into your mouth. Being agnostic, a heaven for people seems strange to me; that scene from This is the End is kind of how I used to picture it, but an animal sanctuary in the sky where all of our beloved family pets to hang out together doesn't seem odd in the slightest.