This week: After getting in from Concord, Z and I took Katniss' wheel to Hannigan Household. Takito with Amanda & Stacy. Make-up test run with Amanda. Mixer run to Whole Foods with Alison and lunch @ Urban Vegan. Front chipped teeth fixed @ dentist. Prep welcome bags with Garrett's CaramelCrisp popcorn and Katherine Anne caramels. Picked up wedding dress @ Mignonette Bridal. Picked up flowers from Kennicott. Pre-wedding madness dinner @ Dimo's. Wedding party of awesome helped prep one last wedding decoration. Test run of the Old Curmudgeon signature cocktail. LCB designed and then I uploaded wedding program to Kinko's to print. Picked them up and cut them. Bouquet/boutonnière/wrist corsage prep with the best bridesmaids. Picked up speakers @ Windy City Music. Wedding rehearsal @ Swedish American Museum. Rehearsal dinner @ Reza's Andersonville. Impromptu drinks @ Takito. Julie's spin class @ Lakeview Athletic Club with KATE! Hair done @ Strange Beauty Show. Set up the venue (this was the most stressful part of the day)! Nails done @ Nail Palette. Finished writing my vows. Got married! Had Nate Stayed at the thoroughly underwhelming Radisson Blu. Had day after breakfast with our parents and Z's Aunt Chris @ Janik's. Headed off to Greenhouse Bed & Breakfast where we met Magoo the goat, Tinka and Titan the corgis, and Guia and Mark, the B&B's owners and promptly headed out with Mark to go make apple ciders with a cider press over 200 years old!
Our wedding was perfect because it was absolutely 100% us. I'm going to break up the amazingness into a few posts. I was going to post about our favorite things, but seriously, EVERY SINGLE THING THAT HAPPENED and EVERY person who was there made our day perfect! We had written an e-mail to the most joyous entertainment that exists in the whole world, PUPPET BIKE, awhile ago if they might perform at our wedding but we hadn't heard back, so I re-wrote the email as a letter and we dropped it off to P-Bike in Andersonville during a show. We got an email the day after saying that they would do it. AND THEY DID IT! Basically, our brains exploded with happiness. BEST WEEK EVER!
Photographic evidence of our perfect wedding: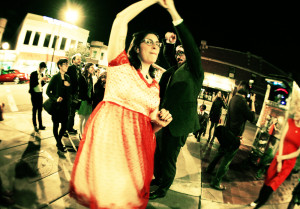 Photo by Kirstie Shanley.
Of course, no wedding goes off without a hitch. Here were ours:
– One of Z's groomspeople dropped out a week before the wedding.
– A couple friends and family friends were not able to attend at the relatively last minute.
– A few friends showed up late and missed the ceremony.
– One friend that we know of didn't show up at all.
– I chipped my nailpolish right before the ceremony.
– We both forgot to put a pun or wordplay into our vows.
In the grand scheme of things, only forgetting one thing we intended to do was pretty awesome. Everything else was out of our control. And the whole thing was awesome even with those little hitches in there. I love my boo and I am so glad to officially call him my Mr. Boo.
Films watched 42nd week of the year:
Waking Sleeping Beauty *
Viva Cuba ** [ Cuba ]
* documentary
** foreign language