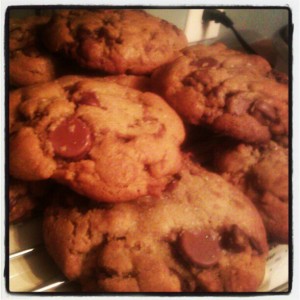 These are the best cookies of all time: nutella stuffed chocolate chip cookies. Thank you, Ambitious Kitchen! Of course LCB found the recipe. I followed it to the tee, except I used 3/4 cup semi-sweet chocolate chips and 1 cup milk chocolate chips and did not use any dark chocolate chips because I didn't want to spring for more bags of chocolate chips.
Heidi A. was the winner of $25 worth of Rhymes with Twee goods at DIY Trunk Show. Heidi has been emailed and will hopefully email me what she would like soon!
Happy Thanksgiving, everyone! I hope yours is safe and scrumptious!
As an additional perk, why not give everyone who reads this 20% off the Rhymes with Twee Etsy shop with coupon code: THANKSCOOKIES. Buy handmade this holiday. Those you're buying for will appreciate it more! Bah to Black Friday. See ya Cyber Monday! Offer good through Tuesday, November 27th!