Most of this week was awesome, but I experienced a giant pitfall in there. Took a co-worker pal to Podhalanka. Attended my first ICNC networking breakfast. Went to a reading that was part of Chicago Zinefest and went to Chicago Zinefest itself. Went to my first Paper Machete at Horseshoe. Made chicken and waffles from scratch with friends. Saw Stacy of Paper Doll's new pug Rhoda Morgenstern twice this week!
The pitfall experience was failing to get tickets to Radiohead. We tried and failed on both the w.a.s.t.e. pre-sale and the WXRT presale. During the proper sale on Saturday, I had 200 level tickets in my cart on Saturday and I just could not pull the trigger. I can't see my favorite band since 1995 from that far away. I just can't. So, if anyone stumbles upon this blog post and can help out, my friend (old school IRL #permanent_daylight name internautte) and I (old school IRL #permanent_daylight name madflowr) are looking for two Pit or 100 level tickets. Crestfallen is the best way to describe how it feels not getting tickets to your favorite band for over half of your life. I am fairly certain it will work out in the end and we'll find some way to see them, but currently I am feeling gutted. I had to force myself to leave the house Saturday, but I made it out and it was a good thing I did.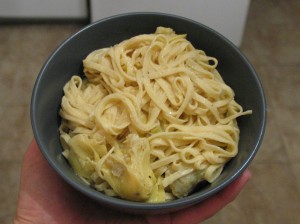 Adapted from the recipe I found here:
Lemon Butter Sauce:
1 cup dry white wine
1 lemon, quartered and chopped
2 tablespoons minced shallots
1/2 cup 1% milk
2 cans artichoke hearts, quartered
1.5 sticks unsalted butter, cut into pieces
1 teaspoon kosher salt
1/8 teaspoon freshly ground pepper
Combine the wine, lemons and shallots in a medium saucepan and bring to a boil. Reduce the heat to medium-low and simmer until reduced by half, about 10 minutes, stirring occasionally and mashing the lemons with the back of a spoon to break up into pieces. Add the milk and cook until reduced by half, about 3 minutes.
Add in two cans of artichoke hearts, quartered. Whisk in the butter, 1 tablespoon at a time, adding each piece before the previous one has been completely incorporated. Continue until all the butter is incorporated and the sauce coats the back of a spoon, removing the pan from the heat periodically to prevent the sauce from getting too hot and breaking. Add the salt and pepper, and whisk to blend.
Remove from the heat and serve immediately over your favorite type of pasta or cover to keep warm.
Yield: 5 servings
I removed the couple steps I did not follow. I know this would have been better with cream, but all I had on hand was 2% milk. I would also recommend using only 1/2 or 1/4 of the lemon, depending on your tastebuds. This sauce was extremely tart and had way too much lemon incorporated into it.
Films watched 10th week of the year:
The Exploding Girl
A Fish Called Wanda
The Gate
Dirty Country*
From Prada to Nada
Waste Land*
*documentary
Winners this week were the two docs. I love documentaries. Wasteland felt especially pertinent to my job and I'm going to recommend that my co-workers watch it. Anyone who is a fan of art, living green, or a good doc would enjoy it. Dirty Country was Z's pick, but I ended up loving it. Prudes, beware! I want to go see this guy Larry Pierce play a show in his garage one day. Watch it: Dirty Country.