This week: Tradeshow in Texas for work Monday through Wednesday. Work bday lunch at Handlebar. Made food for Chicago Food Swap, with its first time theme of vegan. Erin took me out for a bday cocktail @ Takito. Migrainey. Brunch/Logan Square Farmer's Market @ Bite with Jen S. Chicago Food Swap @ Green Home Experts. Dinner @ Quesadilla with Z, Alison, Ian, and Sei Jin.
Swap Talk!
– I brought my malört jam, blueberry jam, the blueberry agave jam that tasted like fruit roll-ups, and Dandy Dandies Fudge (made with Chicago Vegan Foods vegan marshmallows). My most popular item was the malört jam, surprising enough! Really, it is wonderful. I am going to try to bring something malörty to every swap I attend. 🙂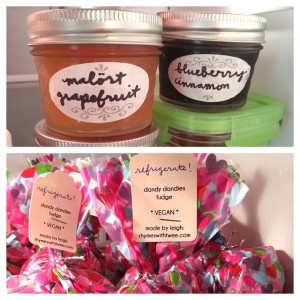 – There was a lot of jam and next time I will bring something not jam so I can trade for other people's jam!
– This was only my second swap, but I need to wrangle myself into making/bring less stuff.
– Making label stickers with my name and what I made, like I'd seen swapper Dora do at the last swap left me more time for talking to fellow swappers and tasting!
– The host space for this month's swap, Green Home Experts, is a treasure trove if you want to make your home sustainable. Simply LOVELY owner & employees. I bought jalapeno and habanero plants for my container garden, along with some praying mantis egg sacs!
– I loved going to a swap where I knew I could eat nearly everything (one thing had mango & I am allergic).
– I scored an OXO strawberry huller and oh, hull no, I can't wait to get at some strawberries with it!
– So many great items, but some of my faves from my swap haul: vegan mushroom bacon, the blueberry crumb cake (not sure if vegan), Linsey's fermented beet mustard, and Ian & Alison's pickled onions. Non-vegan item fave: duck eggs from swapper Tara!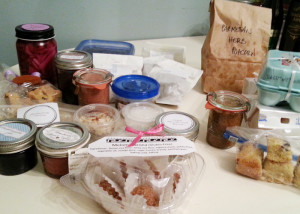 Films watched 20th week of the year:
Dirty Rotten Scoundrels
You're Next
Since I was gone half the week in Austin for the work tradeshow and then cooking for the food swap, I only watched two movies, but they were both good. Dirty Rotten Scoundrels is one of my favorite films and I still remember nearly every word and facial expression of Steve Martin.
I don't watch a lot of horror films, but I thought You're Next was pretty good and it made me jump and grab for Z's hand multiple times. The only weird part was seeing someone we are friends with get killed fairly brutally.