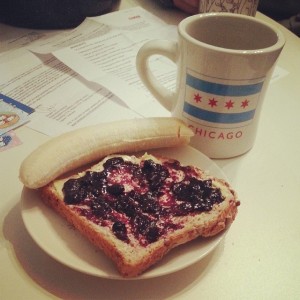 Blueberry Jam from Food in Jars
I had it in my mind that I wanted to try making jam on my own this time, so I tried a blueberry jam recipe I had, but subbed in agave and subbed powdered pectin in for liquid pectin (it can be done, but the substitution page I found was wrong and my first batch ended up tasting exactly like a blueberry fruit roll-up – it is actually not terrible, but not mouth-watering. It was Z's dang suggestion that I had enough time to make another batch before the TPOBPAH show, so I went straight back to it and made this Blueberry Jam Recipe from Food in Jars. I followed this recipe to a tee except for leaving out nutmeg and using the low sugar pectin since it was all I had. This jam was off the chain delicious. Jam is totally my jam now, dudes. I may bring this one to the May 18th Chicago Food Swap – spots are still available – you could go!
This week: Made jam twice in one night. The Pains of Being Pure at Heart/Fear of Men/Ablebody @ Empty Bottle. Sound of Silent Film Festival @ Music Box. Quesadilla with Erica & Kelly. Takito with Donovan. Arya Bhavan/Takito with Stacy. A very long walk. Dimo's with the boo. Grocery shopping. Arline & Monica's civil union day-after celebration at Foster Beach! On Sunday night, I made Saag Tofu from chow.com and whoa my gosh, it was delicious – next time I will try to veganize it.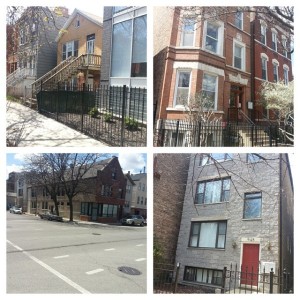 Previous Ukrainian Village Apartment Buildings
Like I said, on Saturday I took a 2-hour walk and I decided to walk to all of my previous residences in Chicago, which all happen to be within 4 blocks of one another – I do not joke about being a hood rat. It was nice being outside enjoying the weather and reflecting on my 10 years in Chicago and clearing my brain of some heavy stuff that had been hanging out there. Not pictured is my current apartment, the prettiest of them all – our landlord's garden is in full bloom with my favorite being pink and white striped tulips.
Films watched 18th week of the year:
Child's Play 2
From Up on Poppy Hill
Veronica Mars
Philomena
Good movie week, even CP2 was fun. FUOPH was pretty to watch. Veronica Mars was highly enjoyable a second time. Philomena was really good, so good in fact it totally bummed me out that it didn't win any major film awards. I'm adopted myself and knowing this is a true story is just so freaking sad, but lovely too.