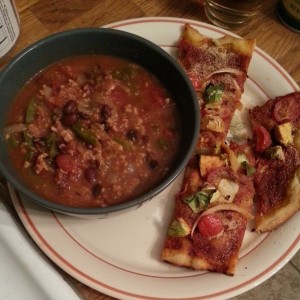 The Radical Face song "Welcome Home" was at the end of Forks Over Knives and HEY, I have that album and I hadn't listened to it in AGES.
Tweekly make was Vegetarian Cactus Chili from Pacificlectic. I had two jars of nopalitos that I had been itching to do something with and I found this recipe on a google search.
Cactus Chili
makes approx 6 servings (1 cup ea.)
Nopales (flat pad cactus), cooked, 1 Jar (30 oz)
Diced Tomatoes, 2 cans (~30 oz total)
Tomato Sauce, 1 can (8oz)
Black Beans, 1 can (~15 oz) – drained & rinsed
Garbanzo Beans, 1 can (~15 oz) – drained & rinsed [ I didn't have a can on hand, so I used two cans black beans ]
Yellow Sweet Corn, 1 can (~15 oz) – drained & rinsed [ Left out ]
Onions, raw, 1/2 cup cut small
Garlic, 6 cloves minced
Olive Oil, 1 tbsp
Jalapeño Pepper, 1 pepper diced small [ Left out due to stomach recovery ]
Veggie Mexican-style crumbles – if desired [ I used TVP ]
crushed red pepper flakes (to taste)
garlic powder (to taste)
onion powder (to taste) [ I left out ]
chili powder (to taste)
cumin powder (to taste)
cilantro and/or vegan sour cream for garnishments (to taste)
Steps
In a large pot (I used a 5 quart pot), saute the onions and garlic in the oil on medium-high heat until translucent.
Add tomatoes and tomato sauce.
Add corn, beans, jalapeno pepper, and nopales (cactus). Make sure to thoroughly rinse the corn and beans (especially the beans). The liquid they come in is a main source of the "gas" with beans.
Add spices to taste.
After everything's been added, cook for approximately 30 minutes on medium heat. Stir frequently.
Garnish with cilantro and sour cream. Serve with chips, tortillas, or rice.
I tried the tofutti better than sour cream on this chili. Not fooling anyone. I had to google reviews to see if I was the only one, but somehow a lot of people are convinced that this tastes like sour cream. It absolutely does not, but it was fine.
This week: Picked out fabric for my wedding dress with Kpoene (Mignonette Bridal), had my work book club meeting for Eating Animals which was the book I picked. I was rather surprised at the outcome actually. Went to Big Star with a neat girl I met at the Creative Expo, Drinks @ Barrelhouse Flats with the awesome and awesomely-named Paige Worthy, avoided St. Patrick's Day crowds at Joe's Wine Cellar, sat down with my tax stuff and made some progress. Spin class at WPAC on Wednesday, the Live DJ Spin class has been incredibly busy the last few weeks. Kimmi was going to meet me, but she got there as someone signed up for the last bike. Curses!
Films watched 11th week of the year:
Harry Potter and the Sorcerer's Stone (Wizard People, Dear Reader)
The End of Love
Patrik, Age 1.5 ** [ Swedish ]
Forks Over Knives *
* documentary
** foreign language