Took Z out for his bday dinner @ Little Goat. I did a ton of cooking/baking this week. I blame Pinterest, which I got back into this week. On Vegan Vednesday, I made this creamy spinach artichoke dip, which used cashew cream. That day it was pretty good, but the flavor improved the next day. Attended the Creative Expo put on by the Chicago Artists Resource at Chicago Cultural Center. The workshop 'Copycats Beware: Protecting Creative Works with Copyright and Other Intellectual Property Rights', given by Kathleen M. Wilt, Attorney from Valauskas Corder LLC, on how to protect yourself as an artist from copycats was worthwhile, but the keynote speech by Chris Kaskie, President of Pitchfork, fell flat; with Kaskie talking a lot but not actually answering many of the questions from audience members. Went to Podhalanka and then saw The Magnificents put on by the House Theatre @ Chopin. Pardon my wordplay, but it was MAGICAL. Z and I don't get out to see many plays, but this one was truly one to watch. The House Theatre Company excels at what they do. There was a sub for my fave spin instructor Saturday and he could have been John Waters' brother. I added strength training before my two spin classes this week and my arms and legs are still achy! Went to breakfast at Toast 2 to visit Beth. Took Tilda on a massive walk.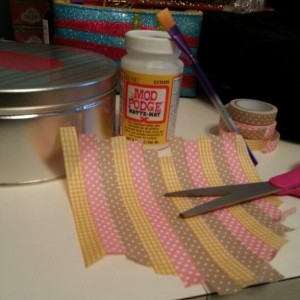 Tweekly make: Made those incomparable nutella-stuffed chocolate chip cookies and a tin to put them in for a coworker's last day. I cut a heart shape out of paper and used fabric tape in rows to cover it and then I cut the excess tape off. Then I used Mod Podge to stick it to a tin my work got corporate gift cookies in and kept reapplying Mod Podge to the heart. Parts started curling, so I put plastic wrap on the top and then set a plate on top of that to flatten it out. Once it was mostly dried, I took the plastic wrap off and applied one more coat of Mod Podge. I know my coworker will love the cookies once they make them to her.
I also made Paul Newman cookbook: Nicole Kidman's Crispy Orchiette with Broccoli, Pine Nuts, and Garlic from the Paul Newmans's Cookbook. Way back in the day, a VERY similar recipe at Bite was almost exactly like this except it had raisins. The recipe from the cookbook was nearly identical to that recipe, except I forgot about the raisins until I was eating it. HUZZAH! So great when a recipe turns out as hoped!
Films watched 9th week of the year:
The Bank Job
Chelsea on the Rocks *
Tony Manero ** [ Chile ]
Breaking Glass
Scarface
Violet Tendencies
The Virginity Hit
* documentary
** foreign language
Wow, Scarface is really boring; so boring in fact that Beth and I fast-forwarded through about a half hour of the movie while Z gave us the plot summary. Breaking Glass; about an 80's musician worried about selling out, was this week's winner by a long-shot, although it ended rather abruptly. Z told me why – the US version cut the original ending, which I HATE knowing. The whole point of the film changed by lopping off the original ending. Gah. What's worse is the ending is nowhere to be found on the internet. INTERNET, you disappoint me.