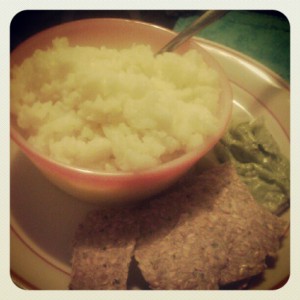 Mashed garlic cauliflower, zucchini flax crackers, guacamole.
Completed a week on the anti-Candida diet on Thursday. I'm planning to do it for two weeks at the very least, hoping to see some more signs that yeast is dying off. Had massive migraines Tuesday and Wednesday. Been super itchy the last few days. Positive: I have been getting closer to my calorie goals on My Fitness Pal. At this point, Kettle almond butter and lime seltzer waters are getting me through. On Saturday, Z and I went to the The Chicago Art Girls Pop Up Shop @ Helium Gallery. Such an excellent group of ladies selling there. Then we went to Vegan Mania where I could eat pretty much nothing except for kale salad and some zucchini flax crackers. I did however buy stuff to freeze and eat once this diet ends. Did you know that you can freeze Dandies vegan marshmallows and Upton's seitans?! When you un-freeze Dandies, let them sit out for one full day and then you are good to go! Sunday, we went apple picking at Kuiper's with the Shanley's and LCB. We had no clue it was the last day of the season. The lines were massive. The drought caused the orchards to have light crops and they were extremely picked over as a result.
In crafty news, I was rejected from Crafty Bastards this year. In all honesty, it does not surprise me. The fair is moving inside. The number of artists had to be cut down and they are charging $10 admission. Of course it breaks my heart a little not to be selling at one of my favorite fairs, but these things happen and often they happen for a reason. Still waiting to hear back on applications to Handmade Arcade, Bazaar Bizarre Cleveland, and Renegade Craft Fair Chicago Holiday. The bummer is that HA and BBC are the same day, so if I happen to get into both, I will have to decide between them. Anyways, fingers crossed!
Films watched 39th week of the year:
The Gang's All Here
Extremely Loud and Incredibly Close
Mary and Max
Model* (Wiseman)
The Cabin in the Woods
*documentary
Watch Cabin in the Woods if you like original, clever, and funny horror movies. Mary and Max was also a winner this week.