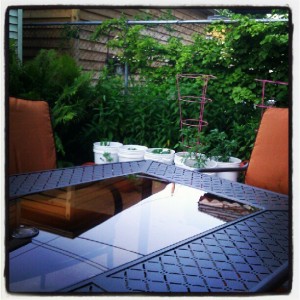 View from our new patio set.
Unfortunately, it was too cold early in the week to use the new set. Otherwise, it was a mostly good week. At my lowest weight again, 2.4 lbs. away from losing 20 lbs. since I started working out/using MyFitnessPal. Got to try Antique Taco, which totally rules. Craft Bar @ Migonette Bridal. Spent a little time at Do Division Friday night, but stayed away for the rest of it. Bday party for LCB at the Clipper. Picnic with the Swanbergs. Saw my first movie at Facets, finally. However, in the land of Tilda…
We took Tilda in Wednesday night to the ER vet. She was super lethargic and had been dry heaving and producing spittle. It turns out she likely has bordetella (kennel cough), which burns my butter because we told our vet when we were in less than a month ago that we received notice that she was due for her bordetella vaccine, but she said we did not need it since we don't board her. Well, it's an airborne bacteria and every other house on our street has a dog, so that's how she got it. SO ticked. To top it all off, as of Friday she started limping and trying to bite us when we pick her up. We don't know if it's her back or feet or what because it comes and goes. Whatever it is, it is disheartening to see her like this. Tomorrow morning we will be making our third appointment (for three different things) in a month for her. Yarg.
Finished Bitter is the New Black. Z's mom gave me all the Jen Lancaster books for my bday and that was the first one I've ever read. Really funny read, but I find myself really shocked that she's a Republican.
Films watched 22nd week of the year:
Collapse*
Abduction
Everything is Terrible! The Movie
The Enchanted Cottage
Small, Beautifully Moving Parts
Wet Hot American Summer
*documentary