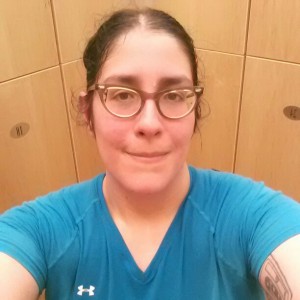 me, post-Wednesday live DJ spin class
Quote above from 'Oh Memory' off the new Hayden record, Us Alone. It is so good. I found a great review of the record here. Pitchfork's review is a joke. I can't wait to see Hayden in April. Over the years, I've seen him so many times, and his music helped shape who I am. I love seeing musicians like Hayden move forward with recording even though life has not dealt them all Aces. Julie Doiron is a yoga instructor now, but releases an album every few years. This new record makes me wonder what Hayden is doing when he is not writing music. Hopefully I will get to ask him in April at Schubas.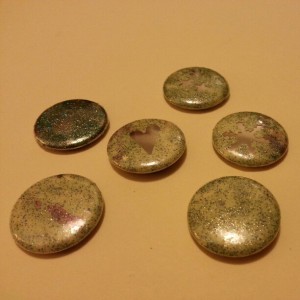 Tweekly Make: I am experimenting with a new method of making new button and magnets. Pictured above are some of the tests I made Friday night.
Busy, busy, busy week. Dinner with LCB @ Sen. Swapped with Betsy for a Foxglove necklace of a Hungarian postage stamp featuring a hedgehog! Jason Anderson @ Swerp Mansion. Breakfast with Jason & Destry @ Chicago Diner. Cider Summit @ Navy Pier. Our two faves Black Star farms Sirius Maple Dessert (16%), which was very mead-like & Eden Ice Cider Co.'s Heirloom Blend Ice (10%), which was almost too drinkable. Movie & Dinner with Shanley's. Boo-entine's day dinner @ Deleece. Also took my spin classes Wednesday and Sunday this week. I finally bought SPD cleats so I can clip in to the spin bike and my ride Sunday was so different! I thought clipping in and out would be harder, but I am getting the hang of it.
Films watched 6th week of the year:
Jacob's Ladder
Seven Psychopaths
Warm Bodies
Searching for Sugar Man *
Alps ** [Greece]
* documentary
** foreign language
Warm Bodies and Searching for Sugar Man were my faves this week. WB was enjoyable and pretty to look at. SfSM was an uplifting story; the kind that artists need to see once in awhile. Z and I bought both of Rodriguez's albums after seeing it. Looking forward to hearing his body of work.