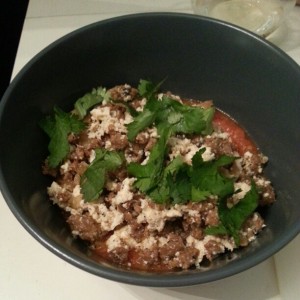 Tweekly make: Pictured above was my first foray into the instagram cooking club some friends started. The recipe everyone made was Sue Torres' Migas from Smitten Kitchen. Because the cooking date fell on Vegan Vednesday, I veganized the recipe, subbing tofu for the eggs and Upton's Chorizo-style Seitan for Chorizo. Otherwise, I followed it exactly. Let me say…after taking the hardest spin class thus far and coming back to cook straight afterwards; this was easily one of the best meals I have ever made. Special thanks to Megan for helping me with prep. Who knew that making tortilla chips was so easy?
Good week. Dinner with Z & Donovan @ Sun Wah. Dinner with Stacy @ Butterfly. Had my review at work and it went well. Nick's bday party. Indie Wed. Brunch with Anna @ Handlebar. Avoided the bowl of super entirely!
Dropped off yellow 6 month bean baby onesies and replenished Hermione Hearts You postcards at Paper Doll. Go get 'em, kiddos! Also, Rhymes with Twee Etsy sales have been blowing up lately and Shop Stats are giving me no insight into why. I love it, but what is going on? Thanks, guys!
Films watched 5th week of the year:
Salome's Last Dance
A Shot in the Dark *
The Godfather, Part III
No One Knows about Persian Cats ** [Iran]
Swimming with Sharks
* documentary
** foreign language
No One Knows About Persian Cats was a must-watch. To get a small glimpse into what is actually going on in Iran was fascinating. I actually bought the soundtrack as soon as the movie was done because the bands featured in the film were great. I haven't bought a soundtrack in ages.