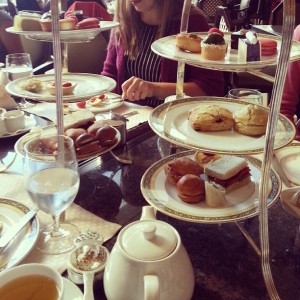 Dinner with Rumbles @ Cumin. Follow-up for Katniss. Made cupcake stands. Shopped for shoes for Z. Wedding outing @ Handlebar with coworkers. Third fitting @ Mignonette. IKEA for centerpieces. Planted centerpieces. Jason Anderson @ Den Theater. Breakfast @ Dimo's. Bridal high tea @ Peninsula.
Bridal tea was amazing. I just wish I could have asked every single lady I love to be there, but as it was, we were one over the number to be IN the lobby seating area. Just so lovely to have tea with great friends and eat the fanciest vegetarian food I have ever eaten. I had one vegan and one gluten-free lady apiece and they both seemed to also love their food. Jessica Manack flew in for the day from PGH and she brought favors; button sets – one of which had my face on them! It was nice to have a little break from the nonstop wedding planning world. I am super mega stressed. Just can't wait to be done with the whole thing. REALLY looking forward to our mini-moon where we can just chill out!
Films watched 39th week of the year:
Heidi Fleiss: Hollywood Madam *
A Call Girl ** [ Slovenia ]
Miss Representation *
* documentary
** foreign language
Actually, wow. All of my movies had to do with women. Miss Representation was the best. Z thought it ran like a PowerPoint, but I thought it delivered information I was not aware of that was really important. Only dislike is the "doing this for my daughter" the director did. Those bits fell flat and unemotional and I think the film would have been way better without them. Now that we are nearing the end of the year, I am scrambling for films from countries I have not watched yet. First Slovenian film I've watched and it was quite good though the content was nothing new.