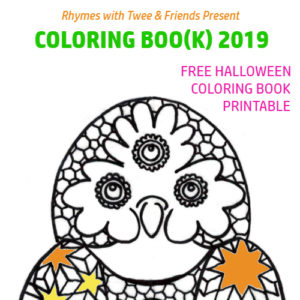 I'm Leigh and I run a small craft company called Rhymes with Twee. The Food Allergy & Education Foundation's (FARE) Teal Pumpkin Project inspired me to compile a free coloring book to be handed out to trick-or-treaters with food allergies or dietary restrictions.
On Halloween, placing a teal pumpkin outside signals that you have non-food items to hand out. Rhymes with Twee's Coloring Boo(k) is great for trick-or-treaters or as favors at a Halloween party. I'd love to see your finished pieces. Please tag @rhymeswithtwee on Instagram and use the hashtag #RWTcoloringboo.
For further information about Teal Pumpkin Project, visit www.foodallergy.org.
Coloring Boo 2019 Download:
Full-Size PDF
(10 pages, double-sided)
Half-Size PDF
(5 pages, double-sided)
Thank you so much to my artist pals! Support them by buying their art. All artists retain complete copyright over their work.
2019 Contributing Artists
Abbey Hambright
Allison Ramirez
Annie Chu
Ashley Lemasters
Britton Walters (nerfect)
Claudia Aguilar (partly claudia crafts)
Donovan Beeson (Letters Writers Alliance)
Henry S.
Jewelia Howard
Laura Williams
Leigh Kelsey (Rhymes with Twee)
Maria Filar (Five Eye Studio)
Mikey Anderson (Yarnies! by Mikey)
Missy Kulik (sugar cookie)
Rashid Chapeyama
Teresa Levy
Tony Recktenwald
Vanessa Bettencourt
Also available:
Coloring Boo(k) 2015
Coloring Boo(k) 2016
Coloring Boo(k) 2017
Coloring Boo(k) 2018
Hope you enjoy Coloring Boo(k)! Tell your friends!
xo,
Leigh
(Rhymes with Twee)