It's a dramatic subject, but in between the short bursts of happiness, this one was a bummer for the books.
What we believe was Art3mis' kidney was so enlarged that the ultrasound showed very little and the options were to keep her healthy and happy as long as possible or have exploratory surgery to see what steps to take next. Now, as hedgie parents, Z and I go the extra mile for our hedgebabes, but the thought of having to open her up just to see if there was the chance to save her seemed like unfair treatment to our babe, so we picked the wait and see option. So, we powered through with 6 meds ( 4 of those twice daily). A week after the ultrasound, she started having bloody stools and then stopped eating on her own and we had to syringe feed her canned cat food and she held on through my birthday for me, but that night when I looked into her eyes, I knew it was time. Z and I knew she was ready to go. We took her in to our beloved Chicago Exotics Monday morning, and sent Artie over the rainbow bridge. We will miss that little grumpus and she joins her son Alasdair who we heard recently passed due to an upper respiratory infection.
Z and I decided we need a short break from hedgies due to their too short lives. In the 8 years we have lived together, we've had four hedgies pass. We believe we'll come back to them as foster parents next time around and educate new owners about them before we jump back into being adoptive parents again. For now, we lent our cage to our pals Christina and Shaun who run the Chicago branch of the Hedgehog Welfare Society. Having that empty space where the cage was is worse than when the cage was empty, but it's what we need to do right now. Luckily, Christina and Shaun have a prickle of hedgehogs to cover us in whenever we need a fix, which will likely be often. <3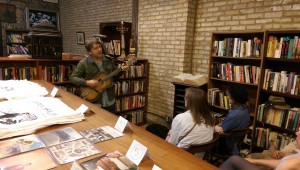 Burst of happiness: Darren Hanlon @ Uncharted Books
May: Early bday brunch @ Takito Kitchen. Show of Hands Vendor preview @ Neighborly and Chicago Art Girls with Mikey. Township with Z. Lunch with Alison @ Native Foods. Brought towels to Reuse First to heat set and caught up with Jeremiah and Michelle. Show of Hands @ Architectural Artifacts. Hayden @ Schubas. More bday celebratin' @ Dragonlady vegan buffet. Post bday dinner with Z @ Lula. Boiler Room with Heidi. My parents in town: Janik's, Barrelhouse Flat, saw Side Man @ Greenhouse Theater, Kiku Open Studio, Little Goat. Saw screening of Love & Mercy put on by The Dissolve with John Cusack & Brian Wilson doing a Q&A. Garden workday @ Community Garden. Emo night @ Burlington with Layne, Jess and her buddy Alithea. Dropped off hedgehog cage for Christina & Shaun to borrow. Bric-a-Brac Records sale. Darren Hanlon/Steven Gilpin @ Uncharted Books. Snuggle appointment with Carlos! Dinner @ Handlebar with Stephanie. Lunch with Stephanie @ Upton's. UHF @ Music Box with Q&A by Weird Al & Jay Levey. Co-worker Whitney send-off @ Bar Takito – this is the other coordinator at my work and I am going to miss her dearly, but she is moving to Austin. 5 Year anniversary party @ Squasht with Stacy. Worked on some songs with Mike Sherry. Picked up Artie's ashes. LCBday brunch @ Honey Butter Fried Chicken. Hung out with Mikey/dinner @ Urban Vegan.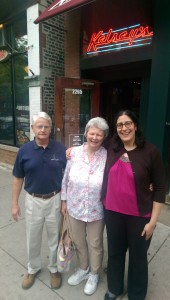 The Kelseys in front of a bar named Kelsey's
Films watched May 2015:
Dumb and Dumber To
Krush Groove
The Guest
Fay Grim
Sabrina
The Idolmaker
The Big Lebowski
Mad Max
Mad Max 2: Road Warrior
Going Clear *
Ex Machina
Mad Max: Beyond Thunderdome
Love and Mercy
Furious 7
Pitch Perfect 2
Avengers: Age of Ultron
UHF
Pride
Love is Strange
The Rocketeer
* documentary
The Guest. Ex Machina. Love and Mercy. Pride. UHF. These were my favorites of the month – BRILLIANT FILMS every one! Going Clear was great, but too creepy to be one of my favorites! I still don't like The Big Lebowski all these years after I thought maybe I just didn't get the humor when I was younger – nope!