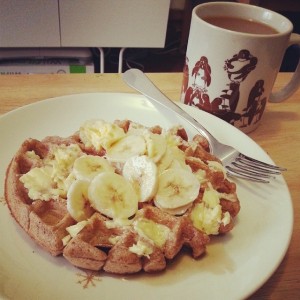 Vegan Waffles, With Earth Balance, bananas, and maple syrup
Finally filed all my paperwork Wednesday for my passport. Fingers crossed that the paperwork doesn't come back because I am smiling in the photo – the lady at CVS didn't tell me not to, so think good thoughts, people! Took Z to Publican for his bday dinner. Vegetarians, take note – they can accommodate us – there is a secret delicious vegetable plate for $18, but it is truly only vegetables, so it's kind of like getting a big plate of sides. Tiny Z bday celebration at Cleo's. Went to our beloved Chiditarod. Brunch with LCB @ Bite. Music Frozen Dancing – yes, I saw Pie-a-see-a Planet @ Empty Bottle. 🙂 Movie with Eliza! Her @ Landmark and Yummy Yummy with the boo. Oscars @ Kimmi's. Somehow this week I still made time to make those vegan waffles above and whipped up cadbury creme egg vanilla buttercream frosting to go on z's bday cupcakes. Pat = back.
Films watched 9th week of the year:
Miss Minoes [ Netherlands ]
Cutie and the Boxer
Captain Phillips
Wolf of Wall Street
Her
Dallas Buyers Club
** foreign language
Cute award goes to Miss Minoes. If you even remotely like cats, you will love this movie. It's something like the Dutch Amelie, filled with fun capers and twee whispering and a bad dude getting his due. OF COURSE I loved it. Cutie & the Boxer was also cute, but thanks to Noriko Shinohara and not sourpuss Ushio Shinohara. Come on you curmudgeon, let Noriko get her due!
Honestly, out of all the Oscar Best Picture Nominees, I had no interest in watching Captain Phillips, but on Friday night, I decided I would take a stab at watching the other 7 films I hadn't seen. I watched this on Amazon on Saturday night, starting it and believing I would only watch the first half and then go to bed. WELL, that's how I stayed up until 2am Saturday night. This film was incredibly riveting even though I knew that he lived. It was so tense. Highly recommend.
Wolf of Wall Street. Is it a result of watching so many films that this film barely had any shock value for me? Gruesome like American Psycho and with a story like American Hustle. Actually, the storyline is so much like AH that I keep confusing the two. Slime of the earth dudes swindling people out of their money and some terrible (and some great) outfits; both getting their comeuppance, but still winding out just fine in the end. Ahh, true stories.
I loved Her and Z thought it was OK because he doesn't get that this is absolutely going to be a thing that happens. Like Lars and the Real Girl, there are some, I'd even go so far as to say many, people who are incapable of being in a relationship with another human, but there is still that longing for a connection that they will do whatever it takes to have one. It was beautiful and heartbreaking, but in a hopeful kind of way. Why is it strange that a computer would help a person become more human?
Great acting by Matthew McConaughey in Dallas Buyers Club and a story that is unbelievable. You don't hear many stories of homophobic dudes in this day and age, all of a sudden changing their stripes to help the LGBTQ cause, let alone the 80's. However, I'm in the "cast a Trans Woman to play a Trans Woman" camp and I do not think Jared Leto deserves all the praise he is getting. Also, with the other nominees for hair & makeup, I am SHOCKED that this won.