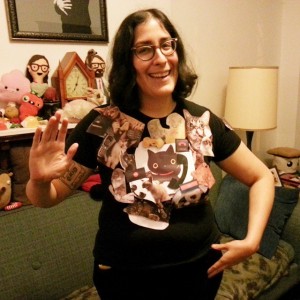 My Feminist Halloween Costume – End Catcalling
The last few years, my Halloween costumes have been memes, but this year I couldn't think of anything until two days before our party and came up with this one. Probably the most topical costume I've done so far, as the viral video of a woman being catcalled (over 100 times in 10 hours in NYC) has been all over my feeds this week. This year I went as no catcalls/end catcalling. Z and I both have been sapped of energy since it feels like we eat, sleep, and breathe our move these days and we skipped two parties we really wanted to go to.
This week: Boxtrolls @ City North. Made Rhymes with Twee ad for the DIY Trunk Show program. Cooking Up Change event @ Bridgeport Art Center. Made chili for Vegan Food Swap. Z & my Halloween Party. Errands at Home Carpet 1 and then Floor and Decor. Dropped Bean Baby onesies and 'bean a great year' cards at Neighborly. Afterwards, I made pierogi for the food swap. Rachel & Adrianne's Halloween Party. Made truffles for the food swap. Friends helped Z and I carry boxes to our new place – we have the sweetest friends. Vegan Food Swap @ Read/Write Library. Was too freakin' tired and I ate my ticket to Allo Darlin' at Schubas. LAME. Cannot WAIT to just be moved already.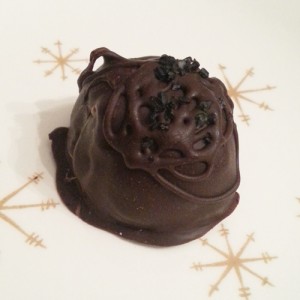 Salted Caramel Peanut Butter Truffle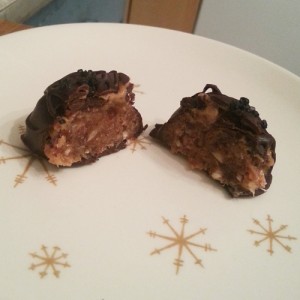 Salted Caramel Peanut Butter Truffle – inside
For the first Vegan Food Swap Chicago, organized by buddies Alison & Ian, I made the potato&onion pierogi, black bean + butternut squash + kale chili, and the Salted "Caramel" Peanut Butter Truffles from the Minimalist Baker recipe. I was most proud of the truffles and they were fairly time-consuming, actually, but they were my least popular item. I know it to be true that savory nearly always wins, BUT I still like to challenge myself and make something new, which most often is sweet. As I took a first taste of the dates mixed in with coconut oil, my first thought was "oh, man. vegans thinking this tastes like caramel be crazy," but once you drape the "caramel" in peanut butter and chocolate, it goes a long way in convincing me that it does taste something like caramel. My fave things I swapped for were Betsy's vindaloo tofu, Reba's quince preserves, Bob's cauliflower kalamata olive thing, and can't remember swapper who brought the elderflower tea. I had multiple lunches/dinners for the week. It was great going to a swap where I knew I could potentially eat everything! Alison, Ian, and I are still taking part in the regular swap, but this is a nice breakout swap for the Chicago vegetarian/vegan community.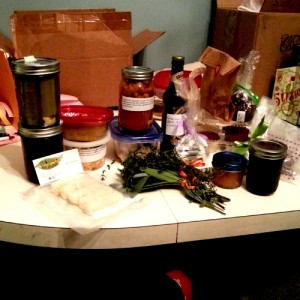 Vegan Food Swap Chicago – what I swapped for
Films watched 42nd week of the year:
Teenage Mutant Ninja Turtles
The Boxtrolls
Teenage Mutant Ninja Turtles II: The Secret of the Ooze
Yep, only kid movies this week. I think I watched something without Z, but I can't figure out what it was. The Boxtrolls was tremendous. I have always been entranced by stop motion films, but this one had a great deal of heart and a nice message of being yourself, even if you're a weirdo.