Z & Me, pre-Kate & Brian's wedding
The last two weeks: Sara and Chris came to meet Codex. Errandin'. Last Dragonlady vegan buffet. Got rear van light replaced. Black Lips/King Khan @ Logan Square Auditorium. Apple picking @ Kuiper's with Eliza, Mike, Meghan & Lee. Reprinted garlic & artichoke Veggie Vampire tea towels. Picked up stuff @ Amish Healthy Foods to go with Kate & Brian's wedding gift. Drove to Cleveland. Helped Kate & Brian with wedding prep (see wedding card box below!). K&B Rehearsal Dinner @ Stone Mad. K&B Wedding! Breakfast with Hansens @ Dante Next Door. Drove back to Chicago and listened to a heap of Ready Player One, read by the one and only Wil Wheaton himself.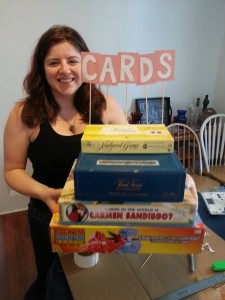 Kate with Board Game Wedding Card Box
Films watched 37th & 38th week of the year:
Let's Be Cops
The Rock
The Abyss
David Bowie is Happening Now *
The Princess Bride
Safe
* documentary
LBC was OK. TR remains great. TA was far more beautiful than I remembered watching it 15 years ago. DBIHN was one long commercial for the exhibit we're seeing at the MCA, but I didn't mind because I am SUPER psyched for it. TPB is an absolute classic. Safe was forgettable, but it's hard to like Statham in a movie that is not Crank or Crank 2.