The last two weeks: Z made spanakopita a la lalalaini for his August vow dinner. Sen with Annie G. Greek Islands with Eliza & Mike. Rhymes with Twee factory time. Flew to Cleveland for Kate's Lady Shenanigans. Z picked me up from the airport and we headed straight to Quesadilla for dinner. Lunch @ Yuzu with Judy. Jen's Bday dinner @ Rangoli. Sold @ Renegade Craft Fair Chicago. Post-RCF Celebratory Dinner @ Bite.
The last two weeks were leading up to Rhymes with Twee splitting with di Palermo Body for Renegade Craft Fair Chicago. It was my best yet. Square tells me that there were no repeat credit cards, which is so surprising because it seemed like there were many repeat customers from last year. I made heaps of brand new things and most are up in the Etsy shop. I remade Picked You cards and made 3 brand new cards: Werner Herzog Love, Goat Love, and Mushroom Love. I also remade Artichoke, Garlic, Radish, and Carrot Veggie Vampire Tea Towels and made mushroom ones as well as making 'I Quilly Love Writing' stationery sets. Mushroom tea towel and stationery sets will be photographed soon and listed on Etsy.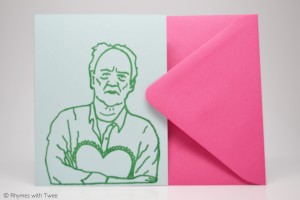 Werner Herzog Love Greeting Card
Text inside:
I WERNER BE YOUR BOYFRIEND.
BEKLAUS I LOVE YOU.
(and of course Klaus Kinski is inside the card holding a heart)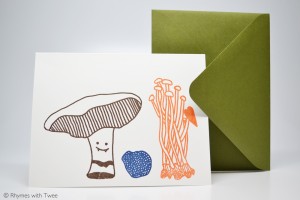 Portobello Truffle Enoki Mushroom Love Greeting Card
Text inside:
My heart turns to mush when I think of you.
There's room in there only for you.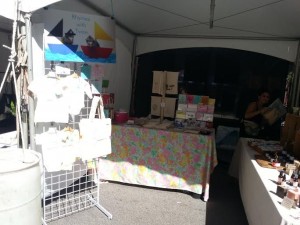 Rhymes with Twee Booth Display @ Renegade Craft Fair Chicago
Films watched 34th & 35th week of the year:
The Fisher King
Bright Star
Dear Mr. Watterson *
Tiny *
* documentary
Somehow I had never seen The Fisher King. It was lovely. Bright Star could have been called Bright Snore. Gorgeous costumes and settings, but I didn't feel empathy for any characters. Both documentaries were short and sweet to have on while prepping for Renegade. I am very much in love with the idea of tiny houses. We had already tackled books, but the film kicked Z and I to pare down our music.