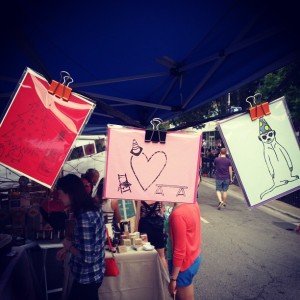 Two new cards and a reprint for RCF Chicago
In a flurry of creativity, I made two new cards and reprinted an old favorite for Renegade. I present to you Malört Christmas Card, Chicago Dibs Love Card, and reprint of Meerkat in a Party Hat Birthday Card. Listings will go up on Etsy as soon as I have some free time to take some photos.
Katniss is just fine after her surgery. See a video here. Even with one less leg, she's still getting around just GREAT. She was already so low to the ground, it seems she barely notices. The only bummer is that the amputation cost Z and I a bit over $800 total. We submitted the paperwork to VPI. Fingers crossed they pay a large chunk of this madness. Some think we are crazy to have pet insurance, but then things like this happen. This is where I warn again that if you are looking at getting a hedgehog, please know that the chance your hedgehog will end up having some form of cancer is EXTREMELY high. Please read the Common Ailments section of Hedgehog Central to see what you are very likely to face if you are considering adopting a hedgehog. Being a three-time hedge-mom, I can still say that I feel they are absolutely still worth it for me, but please think it through.
Also this week: biked to Neighborly and dropped off more Bean Baby onesies. On the way up there, my brakes were making a terrible screeching noise so I dropped my bike at Comrade Cycles for them to realign my wheel and decided to leave it for a complete tuneup. Love, love, love Comrade. Cannot say enough positive things about those dudes.
Renegade Craft Fair was this weekend and it kicked my butt. Lots of amazing old customers and new. My boothmate Jessica (di Palermo Body) and her friend helper Ashley were awesome and we traded, so now I have some Linger soap! Her soap and body goods are even more gorgeous in person. With all the stuff that has happened in the past week, it's no wonder that my body gave out. I stayed home sick Monday and took two naps. I had to pull myself off the couch to go to my second fitting @ Mignonette, which luckily was a breeze. Stopped at Z and my new obsession Dimo's and grabbed pizza. Nothing helps body aches like pizza, right?
Films watched 36th week of the year:
Rip! A Remix Manifesto *
Sinister
A Talking Cat!?!
Bamako [ Mali ] **
* documentary
** foreign language
If you are reading this post you likely have nothing better to do, right? Well, let me give you something better to do – fire up your Netflix Instant Queue and watch A Talking Cat!?!. Z and I were almost cry laughing throughout so much of it. I think it may be my runner up for Best Worst Movie of all time.