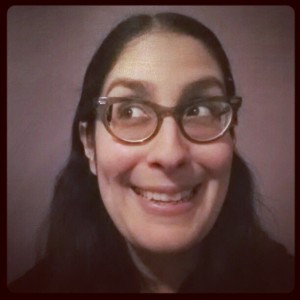 Hello! I'm Leigh. My name rhymes with twee and that's how I came up with the name for my wee company. I love when customers try guessing what rhymes with twee. My favorite thing about creating is; when selling at a fair, seeing the look on a customer's face light up as they read the messages inside my cards and their lips curl into a smile or they start to laugh.
I've been making since I was a wee one, but I started selling in 2005, mostly to get a free Sampler [RIP]. I started out making paper goods with my Riso Print Gocco, but I branched out and progressed to breakup bandages, shrinkeychains, pillows, magnets, stuffies, baby onesies, t-shirts, unbleached cotton tea towels, etc. I like to keep things at Rhymes with Twee HQ lively and I love learning new skills. With Gocco supplies in short supply, recently I started carving blocks and printing with those.
I am a doodler and not an artist. I love doodling! I am inspired by a variety of things, from weird animals to puns to music to fonts. My friend Jason Anderson is one of my biggest inspirations. He is a great lyricist, singer, and human being. You should listen to him here.
I am fond of these other words that rhyme with twee:
cacophony, catastrophe, glee, jubilee, merrily, revelry, squee, tea, wee.
Interested in saying hello, sending a recipe, telling me your favorite word that rhymes with twee, or something else?